Climate education must be locally rooted and globally informed
Image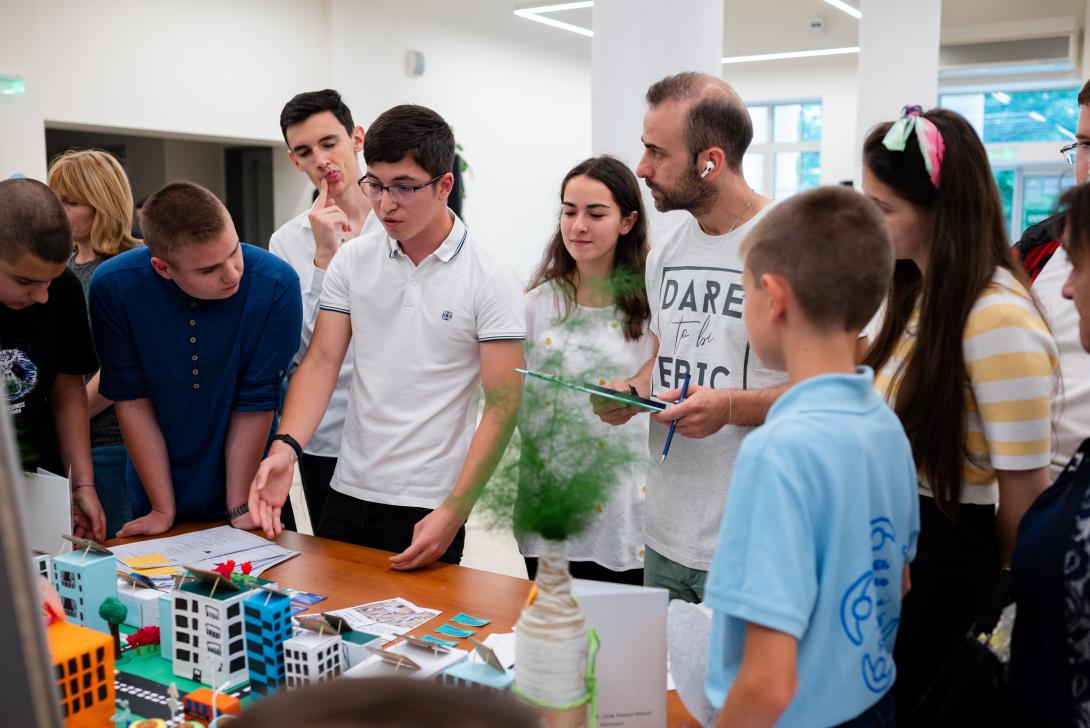 Last week, the 24 members of Teach For All's Climate Education Champions* cohort presented their climate education leadership plans to one another. Shafee from Bangladesh described the 10-part video series about climate change and its local impacts that he plans to co-create with his community to empower local youth on the issue; Olisa explained the design choices of her 'How to teach about climate change across all subjects' workshop for Teach For Belgium teachers; Irene from Uganda outlined how she will engage primary school learners in creating an ambient learning atmosphere (through greening school compounds) and will guide learners in identifying a community problem caused by climate change and come up with actionable solutions. In small groups, cohort members then exchanged questions and suggestions, posted links to helpful materials, shared experiences, and formed working groups. The atmosphere was creative, collaborative, and uplifting; above all, the cohort members embodied the collective leadership and support they each strive to foster in their learners and communities.
As diverse as they are, all of the Climate Education Champions' plans have one thing in common: they are truly locally rooted and globally informed. In other words, they  incorporate local perspectives and needs of the communities where they will be implemented and are created in deep, authentic partnership with members of these communities, while being informed by global best practices and examples from other contexts of 'what's possible' for climate education. Such a two-fold approach is especially vital for climate education.
Locally rooted: Learning gains meaning when it is relevant and connects with learners' lives
The impacts and lived experiences of climate change vary from place to place and are linked to the local climate, natural environment, and culture. Many communities suffer severe challenges from climate change, including droughts, floods, storms and extreme heat, that threaten livelihoods and disrupt all areas of community life. Students need to understand the causes and dynamics behind these challenges they're experiencing, and learn how to adapt and build resilience; they also need to understand their own impacts on the climate and develop agency for driving solutions—for this to happen, climate education must connect with students' lived experience. To paraphrase the Senegalese forestry expert Baba Dioum (1968), we will protect only what we love, and we can only love what we know. Or, as Olisa notes: "When students realize their own impact and agency in their context, they relate to the issue. [Otherwise, climate change] seems abstract and far away—why care then?" 
Globally informed: Climate educators need to inspire and support each other—by sharing examples, experiences, and materials and by building community
Though the importance of climate education isn't new, the increased frequency of climate-related crises in recent years has elevated its place in global (education) conversations. Still, climate education is absent from most of the world's classrooms. School curricula largely ignore climate change and less than 40% of surveyed teachers feel confident to teach about climate change (UNESCO & Education International, 2021). So, climate educators are often lone pioneers in their contexts, who can greatly benefit from building community with fellow climate educators and drawing from examples. "The climate education projects that we are creating have a lot in common", Julia, Teach For Bulgaria staff member and Climate Education Champion, notes. "There is no need to start everything from scratch when there's a lot of people in the group who have relevant examples and experience". Illustrative examples also help to make climate education feel more accessible and less daunting for teachers: by seeing what's possible and how it's done, educators come to understand they don't need to be a climate scientist or environmental expert to teach about climate change and its impacts, and these examples provide them with concrete inspiration for replication or contextualization.
Teach For All's role in fostering locally rooted, globally informed climate education
Fortunately, the field of climate education is fast-evolving and there are many inspiring examples of climate education leadership at all levels. These examples need to be shared in easy, accessible, and inclusive ways, with all those organizations and teachers aspiring to take action on climate education. In addition to nurturing climate education champions, Teach For All does this through leading various community spaces. For example, on a recent call of the Teach For All Climate Education Community (400+ members—including staff, teachers, and alumni from across our global network), Teach For Lebanon shared about their contextualized climate education approach, which inspired other network partners' sense of possibility about their own work. Teach For All is also co-leading the Teachers for the Planet program, which puts teachers and education leaders at the center of the educational response to the climate crisis, by fostering community among organizations active in this area and by creating a repository of 100 inspiring local climate education solutions from across the world, to be released at COP28. 
This Earth Week, we celebrate four particularly inspiring examples of climate education leadership from across our global network—from Enseña Chile alumna Camila, who develops children's agency for tackling the climate crisis, to Teach For Bulgaria staff member Julia, who led the creation of a national teacher guidebook on climate change, to Teach For Kenya fellow Esther, who guides both students and teachers towards climate action literacy, to the group of Teach For Lebanon fellows who lead Planet B, which has developed a teacher training module and contextualized teaching resources for the Lebanese context and curriculum. All of these examples are unique and locally rooted, and at the same time, they all offer inspiration and insights for climate education across the world. This week and every week, we hope you will join us in fostering student agency and leadership for climate action—locally and globally!
*Teach For All's Climate Education Champions is a cohort of 24 participants from 20 countries who each lead climate education in their context, and who collectively engage in a six-month learning series with 10 sessions. As part of the learning series, each member develops a climate education leadership project for their own context.