Calling on the rising generation to channel their time and energy towards reshaping the world
Image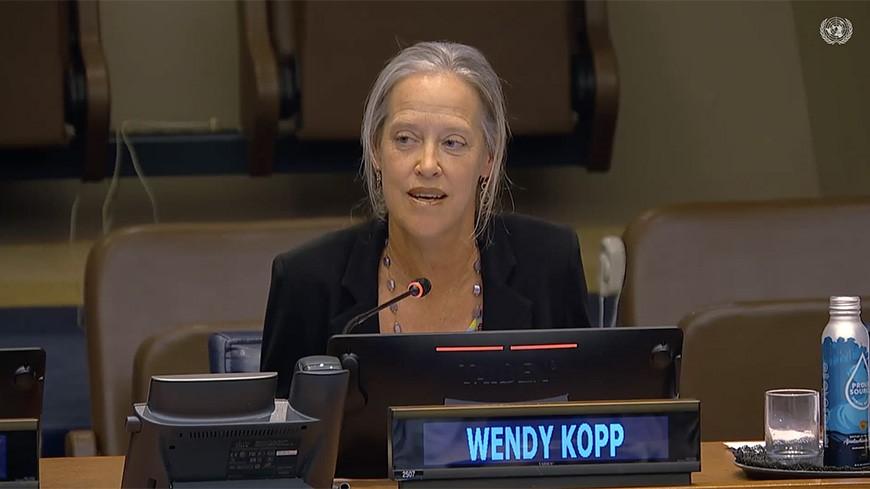 Keynote address at the United Nations, August 11, 2023, on the occasion of International Youth Day to the AFS Youth Assembly
It's such an honor to be with you all as you kick off this Youth Assembly. I'm inspired by your civic engagement and your sense of agency. And on the occasion of International Youth Day, I'm excited about the opportunity to talk with you about what we can do, collectively, to dramatically grow the extent to which your generation and those generations that follow are influencing and shaping the trajectory of the world so that we can in fact break through to a better future.
I started out on this journey that's grown into Teach For All when I was about your age. What I've learned through these incredibly energizing decades has led me to know that the path to our global aspirations for peace, justice, and sustainability requires the full-time energy of your generation and the generations that come after it. Youth voice is important because voice is part of the leadership that's necessary, but youth voice will not be enough.
Perhaps the most salient lesson I've learned is that the systemic inequities and threats we face as a society are solvable—but that they aren't going to be solved by single solutions. Solving them isn't a question only of how we can distribute enough bed nets, for example, or give every child a laptop or even a committed teacher, or change policy alone. Solving these complex, deep-rooted problems is going to take whole transformations of systems. This is hard, multi-faceted work which entails reshaping policy, changing practice, and shifting culture. This takes a lot of people power, a lot of collaboration and learning, and a lot of time. In short, it takes what we have come to call "collective leadership"—diverse people throughout the ecosystem exercising agency and leadership towards shared purpose, collaborating, and learning together.
What makes me confident the threats and challenges we face as a society are solvable is that across the Teach For All network, I've seen dramatic progress in addressing the fact that the circumstances of children's births predict their outcomes. These are circumstances that most view as intractable. Yet I've seen that enough leadership throughout the whole ecosystem around children can meaningfully change outcomes, not only in single classrooms or schools, but across whole communities. And beyond the work across our network, I've seen that anyone who really immerses themselves in tackling problems that others are observing from afar comes to the same conclusion. I still remember Muhammad Yunus' Nobel Prize acceptance speech when he said, "I firmly believe that we can create a poverty-free world." It struck me so much, because before I listened to him, I would have said that poverty was impossible to solve.
So we can solve the challenges we face–but the issue is that doing so takes the full-on energy and leadership of a lot of people. We won't get there with a lot of people advocating and raising their voices alone. We need people in the arena—working in our most marginalized communities, taking the issues on with their time and energy. This is why we can look at the career choices of the leaders in your generation and know what trajectory our world is going to be on in a few years. Will your generation tackle the entrenched systemic inequities that persist in every sector in the world? Will you put your time and energy towards helping to make the crucial transitions in the world's energy, transportation, and food systems in order to ensure the sustainability of the planet? Will you work towards fostering peace in areas of conflict?
There's so much potential. Your generation is more committed to diversity, equity, inclusiveness, justice, and sustainability than any that have come before—and you're more aware of the threats to all of these things. But so far, your generation's career choices look extremely similar to those of generations that have come before. Many in your generation continue to see their jobs as means to an end—as a source of resources and relationships that will enable their personal well-being and enable them to be advocates and perhaps philanthropists later on. But if we're going to address the massive issues facing people and the planet, we need the most promising leaders in your generation to put your full focus on them. We need you to choose jobs that enable you to align all your professional energy with your values, jobs which are in and of themselves a path to fulfillment and well-being.
I think I'm likely preaching to the converted here. Most of you all are already leading the way and putting your energy towards addressing the issues you care most about. But nonetheless I want to talk with you about what you can do—and what we can do together—to build a broader movement among your generation to align your job choices with your values. On this International Day of Youth, let's consider how to generate an unstoppable movement that inspires and enables your generation to tackle the world's biggest threats and injustices with the invaluable resource of your time and energy. As we consider how to move towards each and every SDG, we will need to consider how to enlist the energy of the rising generation in tackling it. As you go through the coming few days, I hope you'll prioritize this question: How can we enlist the world's young people in dedicating themselves to the hard work required for the transformations we need?
We will need to enlist everyone who influences young people—from parents to thought leaders to universities—in this effort to foster greater intentionality in matching job choices to values. For example, thousands of universities have pledged their support for the Sustainable Development Goals, and we need them to recognize that their greatest contribution would be to support and inspire their graduates to channel their energy towards addressing them.
We will also need to call on policymakers and civil society leaders to support young people to make these choices to undertake such important and intense work while cultivating well-being and mental health. We need serious discussions within NGOs and governments and social enterprises about how to enable people to do the hardest work society has to offer while also doing well. 
Above all, we'll need to transform our school systems. We cannot expect today's students to rise up and lead to solve the massive challenges we face if we're educating them year on year as passive receptacles of information. We need to reorient the very purpose of school systems around the world towards developing students as leaders who can shape a better future for themselves and for all of us. We need to commit to developing students holistically and reshaping teaching and learning so that it fosters students' agency, their awareness of themselves and the systemic injustices around them, their connectedness to each other and the planet, their problem-solving and critical thinking skills, and their personal well-being.
As you begin this Youth Assembly, I applaud each of you for your passion and belief in your collective
agency over the future of our planet and global society. I'm sending you so much energy and good wishes for these days and years ahead, as you take on the challenges, make the most of the opportunities, and work to magnetize your generation and those who will follow you to exercise the collective leadership necessary to realize all our shared aspirations for peace, justice and sustainability.
Watch a recording of the speech beginning at 47:47.