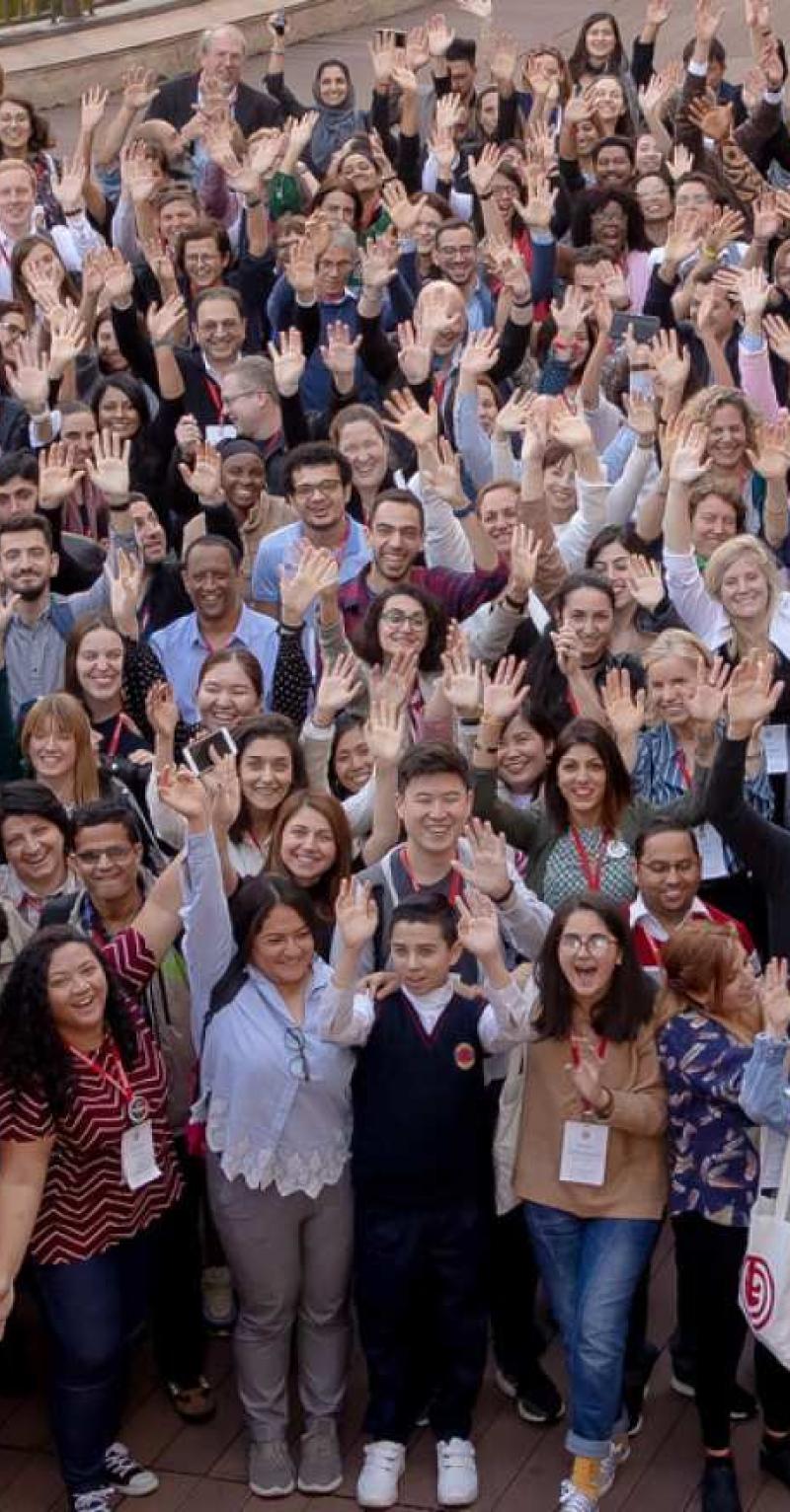 Diversity, Equity, and Inclusion (DEI) is at the heart of our work
As a network, Teach For All believes that fostering diversity, equity, and inclusivity is key to achieving our vision. We believe those who have themselves experienced the inequities we're working to address should guide and lead this work. At the global organization we value diverse experiences and are committed to cultivating a culture in which all staff members feel they belong, are valued for their contributions, and have an impact on our organization's progress.
These beliefs inform Teach For All's approach to diversity, equity, and inclusion:
Representing the communities we work alongside
Fostering a sense of belonging in all of our staff members
Developing diversity, equity, and inclusion capabilities 
Ensuring our organization systems, processes and practices are rooted in equity & inclusion and reflecting as a whole organization on our DEI progress
What our staff members say about DEI at Teach For All 
"Everyone's intention and focus on diversity, equity, and inclusion is really high. You can see that at every level people truly believe and want to make significant progress in these areas."
"We are far ahead of other organizations in how we centre equity and we truly value inclusiveness."
"Our commitment to DEI is essential and I am glad it is becoming not just central to our internal discussions, but also the lens by which we consider all initiatives, engagements, and experiences."
*Quotes received as part of Teach For All's annual employee engagement survey
Representing the communities we seek to support
We believe that our work should be guided by those who have themselves experienced the inequities we're working to address. While our network was founded by partner organizations in two countries—Teach For America (US) and Teach First (UK)—it now includes organizations in 60 countries on six continents. We believe that to be most effective, our global organization's staff should be representative of this diversity. Teach For All has staff members based in over 20 countries in North, Central, and South America, Africa, Middle East, Asia Pacific, and Europe representing over 40 nationalities and speaking over 35 languages.
We measure our diversity against metrics that reflect these aims, and are encouraged by the progress we have made.
Image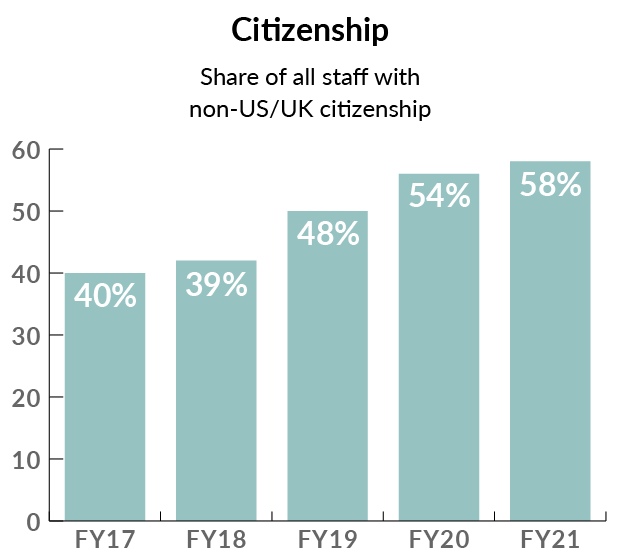 Image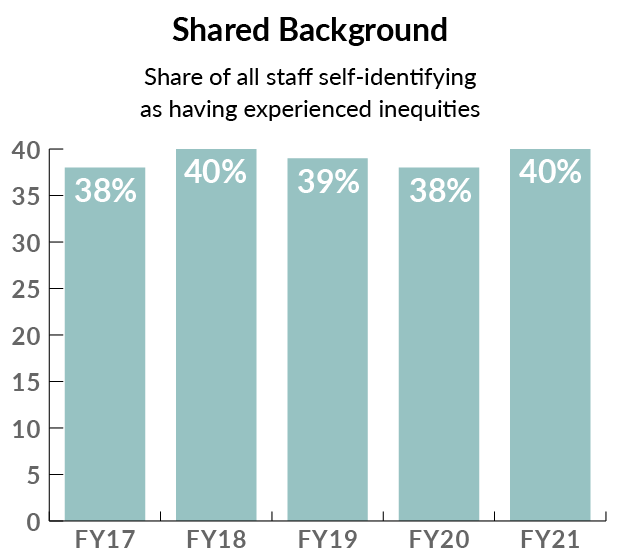 Image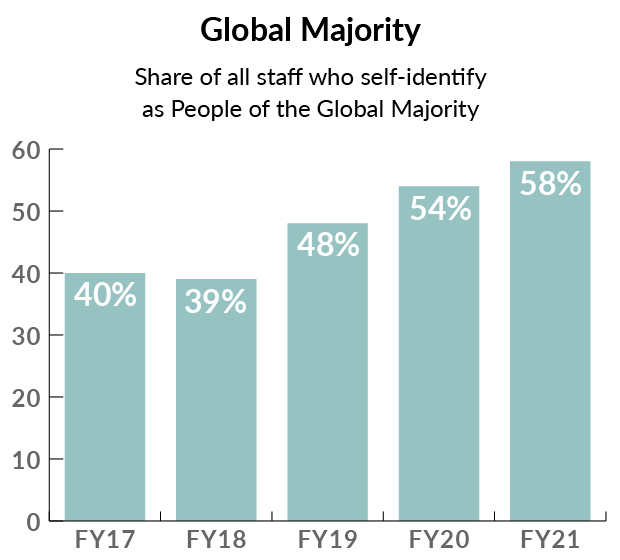 Fostering belonging in all of our staff members
To achieve our purpose and vision we are committed to building an equitable and inclusive community. We aim to create a more inclusive global environment where everyone can fully participate, feel a sense of belonging, be creative, and bring their whole selves to work.
90% of our staff members feel that their colleagues and managers welcome their voice, opinions, and working style (Teach For All 2021 Employee Satisfaction Survey). 
We regularly review our processes and practices to ensure inclusivity. For example, staff members have developed resources to encourage use of language that is accessible to non-native English speakers. We also have several staff-led communities that have chosen to come together around common identities, experiences, backgrounds, and interests.
"You feel empowered when working at Teach For All because your ideas are valued and you are encouraged to try new approaches."
"I deeply appreciate how we are given space to be our whole selves, encouraged to have our own autonomy in work and to find joy and meaning in what we do."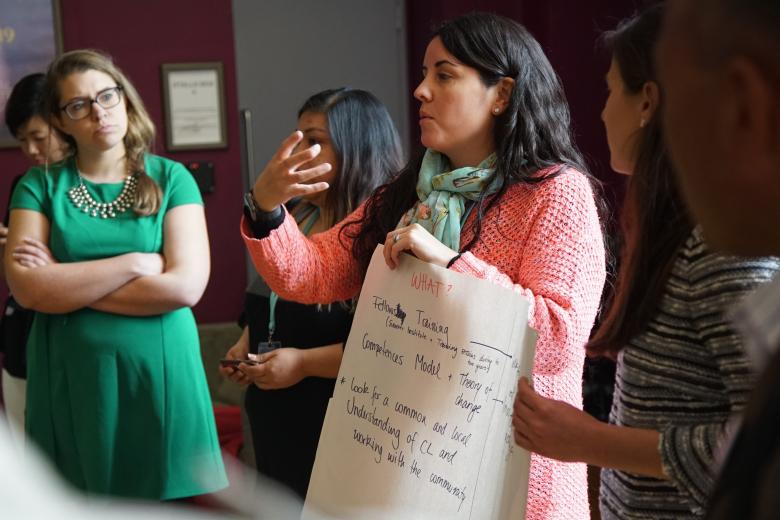 Developing diversity, equity, and inclusion capabilities
We believe that everyone at Teach For All has a responsibility to advance our work towards equity, and provide our staff members with support to do this. We hold a variety of trainings on prioritizing equity and intercultural competence, including on topics such as unconscious bias, communication across cultures, and on understanding the systemic roots of inequity. Our staff members also organize more informal spaces to come together to develop their DEI capabilities. We have recently launched a DEI Advocate series supporting individuals championing DEI practices to share and spread them across the organization, and we offer multiple DEI learning experiences that staff members can engage in with each other and with network partner staff members.