Keeping Communities Safe and Learning
Image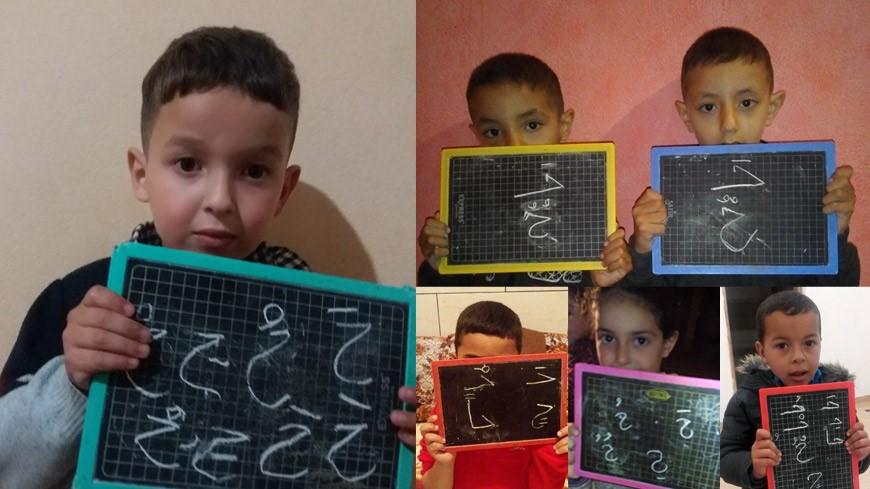 Across the Teach For All network, teachers and educators are exerting tremendous leadership in the face of hundreds of millions of children being out of school. I want to share just a few of the many examples of how teachers and alumni of our network partners are supporting students and families. In a moment of great uncertainty, these stories are giving me hope. 
First we were inspired by the Teach For China fellows and alumni working in rural communities, who showed us that it's possible to partner closely with families and foster ongoing learning across diverse contexts with different levels of internet access. For families with internet access, many teaching fellows moved classrooms to an online learning platform and then followed up to support students one-on-one with homework. For families with little or no internet access but at least one phone, the teachers supported students and families by sharing lessons and homework on WeChat (China's most popular messaging app), for example, by creating an easily navigable daily learning task list so students and parents could access daily lessons and homework in subjects such as language, math, life and values, and music.  
Enseña Perú participants mobilized last week to create a COVID-19 awareness campaign, making videos in indigenous languages (Aymara, Quechua, Awajún) to share them across communities. They have also gone live on Instagram and Facebook with the hashtag #elaprendizajenopara (the learning does not stop) to discuss key issues around the virus, including how to talk with children about the current situation and offering homeschooling ideas.
Image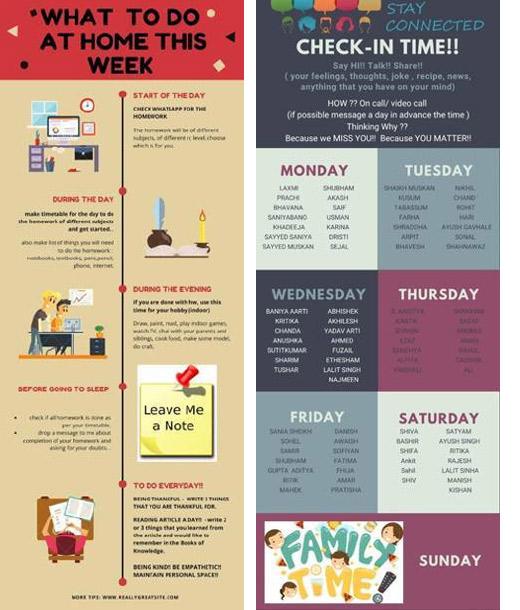 I love these visuals that Teach For India fellows created to help students know

what to do with their days!
Hundreds of teachers from across the network have joined "Teaching Without Internet" WhatsApp groups in Spanish, French, English, and Arabic to share resources for reaching students in the most under-resourced contexts. 



In Nigeria, where schools close starting today, 48 Teach For Nigeria fellows organized themselves to develop lesson plans for primary grades 1-6. They are recording lessons of up to 45 minutes and disseminating them on the government's radio station, thus reaching all students in public and private schools in their state!



Early childhood educators have been helping parents provide educational environments for their children as well. To support the 4 to 6-year-olds in their early learning classrooms, Teach For Morocco teachers have been relying on WhatsApp and Facebook to coordinate with parents, using voice memos because some parents are not literate. They've been giving small assignments, such as how to write a letter, and have had parents record videos of their children doing these projects. Polly Crowther, a Teach First (UK) alumna and early years teacher, has launched a simple site with daily plans for early years children who are now learning at home (tried and tested in her own self-isolation with her kids). All of the resources are free and easy to use, and she made them with the parents of the children at her Teach First school in mind.



In countries where technology is more readily available, network teachers are helping systems make the transition to online learning. Teach For Sweden is offering free training sessions on distance learning to any teachers who are interested. Teach For Romania has partnered with three other NGOs to support teachers in Romania to shift to virtual learning. Through the website scoalapenet.ro they offer help with technology and advice on running online courses.
Image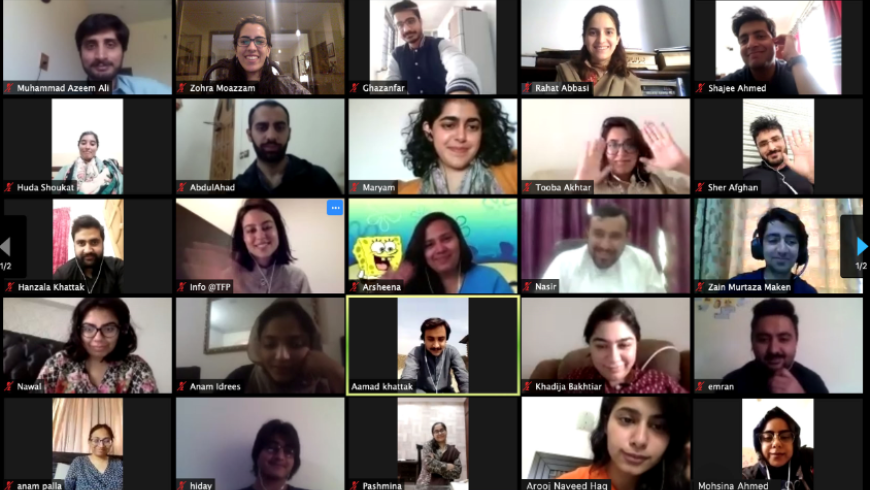 Teach For Pakistan teachers came together on Zoom on Friday, the International Day of Happiness, to offer support to each other, so they can support their students and families.
Beyond the classroom, alumni of Teach For all network partners have stepped up in the midst of this challenge on a global scale. Quim Sabria, an alumnus of Empieza por Educar (Spain) and founder of EdPuzzle, which enables teachers to adapt any video into an instructional video, has made their product free for schools in the wake of the crisis and offers daily tips and webinars on Twitter. At one point in Hong Kong, more than 30% of the schools were using Edpuzzle in supporting their students while at home. Teach For America alumna Michelle Brown, who founded and leads CommonLit, an organization dedicated to providing quality literacy resources for grades 3–12, has been completely flooded with requests from closed schools and districts, overnight becoming becoming a go-to resource for teleschool around the world. CommonLit put out this resource for districts and this resource for teachers and parents and is also running free webinars three times a week, with 20 times more attendees than usual. 
And, this is just the beginning. Please share other great network examples you know about, so we can continue learning and sharing. Tag @TeachForAll on social media or send resources and stories to @email.



In this challenging time, I hope you'll take solace from knowing that you're part of a global community of teachers, educators, and leaders leaning in to ensure the children in communities hardest hit by this pandemic are safe and continue learning. We've never been more physically isolated in communities, countries, and globally, and yet our interdependence has never been more visible.