ConCiencia: STEAM Learning Created in Partnership With Communities
Image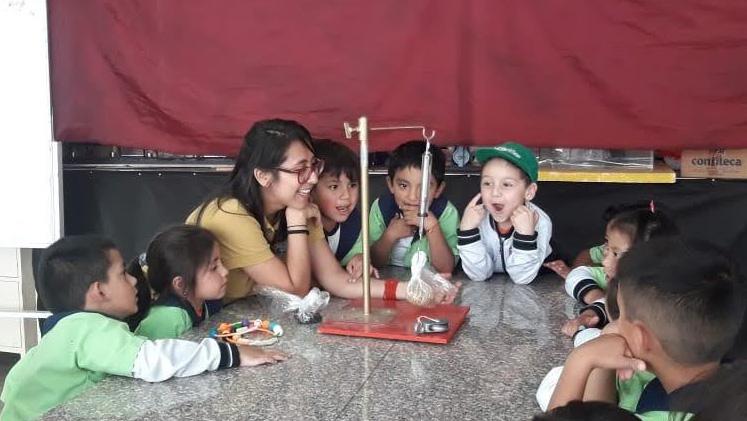 Lea esta historia en español
Since I started my journey with Enseña Ecuador in 2014, I knew that my experience as a teacher was going to be transformative. I decided to base my classes on projects, where my students could have the opportunity to experiment and put into practice chemistry, physics, biology, and the natural sciences. When we talked about our dreams and aspirations, I noticed that most of the girls mentioned careers or activities that did not involve mathematics or chemistry—which most of them thought were very difficult—and that they believed they would not make it to university.
"Teacher, how did you think of studying engineering?" they would ask me. "How did you manage to do it?" I told them that studying science and mathematics is like an exploration of life, where you have to understand every step and every part of yourself. It's simpler than it seems—you just have to dare to experiment and try new things.
I was a teacher for six years for different ages and grade levels, from 5-year-old children to 19-year-old teenagers. I knew that we could do much more for equality in education and to motivate learning in STEAM areas (science, technology, engineering, art, and mathematics), at all levels of education, especially in the less-resourced areas of my country. When the COVID-19 pandemic arrived, bringing with it extremely high rates of absenteeism and the accelerated transition to virtual learning—despite the fact that there are still communities where internet access is rare—I knew I had to do something to change this. 
I decided to take action and start ConCiencia, a learning community with a strong focus on gender and collaboration with rural communities in Ecuador. We are a group of 10 women working for the same purpose: to empower and provide tools for learning in the STEAM areas. It has been a year since ConCiencia launched, and we are still moving towards equity in education and working together with the communities to make it happen. Now more than ever, I firmly believe that teamwork makes possible everything you set out to do.
In May, we had our first engagement with a Waorani community in the Pastaza Province, called Toñampade. In this community the internet connection is almost zero, and there is little time for connectivity for those who are lucky enough to have it. The students have not had access to education for a year. We say that education should be a standard for everyone, but unfortunately in places like these, we see that this is not the case.
Our methodology is based on 7 pillars of development: 1. Movement, 2. Cognitive, 3. Emotional, 4. Art, 5. Ecology, 6. Proactivity, 7. Communication, in addition to workshops in the STEM areas with art as a way to leverage these skills. In these workshops the students also learn about self-discovery, emotional awareness, and conscious leadership. We are also committed to sustainable development and a gender focus. And we are convinced that collaborative education with communities is important because it is an opportunity to share knowledge and learning, and to combine ancestral and western practices that will enable us to make more significant contributions in the educational, social, and cultural sectors.
ConCiencia does not impose its educational practices on or colonize any community with our knowledge, we collaborate with community members to generate real learning spaces. The way we see education is based on the respect and trust of all the people involved in the processes—so much so, that when we first engage with a community and they decide to give us the opportunity to enter their space, we collaborate however is necessary to be part of all of their ancestral processes. We work in partnership with the community and we learn from them their knowledge, social structure, music, stories, language, and customs to build a better version of ConCiencia.
Recently, we had the opportunity to bring illustrated books with animals from the Amazon—specifically from the province of Pastaza—in which the local children were able to create their own stories in their own language, Waorani. Through the illustrations of animals that they will find in their community, and the use of Waorani, the children learned the importance of their language, creativity, imagination, confidence, and identity. We also collaborated with students from the art faculty of the Central University of Ecuador to develop a workshop on empowerment through art, in which the children extracted natural pigments from native plants and used them to paint artistic creations. And we created an engineering space in which we designed prototypes of simple machinery that they use in their community.
During our stay in this community, our team from Conciencia were also learners, and the children and community members were our teachers. We learned about natural medicine, we built snakes with balsa wood, we made crowns with the grandparents, we learned songs from the Waorani mothers, and we enjoyed the delicious local food. At the end of the project, we had a farewell gathering with cinema and dance therapy which we invited the whole community to participate in.  
As an Enseña Ecuador participant, and now in my work with ConCiencia, I have come to believe that when we talk about equitable education for all, the first step is to stop thinking that there's only one path to follow.