A Movement of Lebanese School Leaders is Preparing Students for the Future of Work Amidst Multi-Level Crises
Image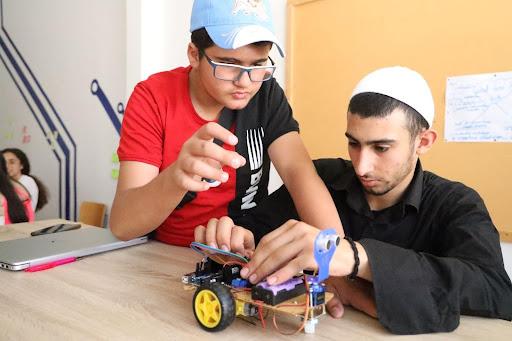 Insufficient investments in Lebanon's school system threatens to wipe out our human capital advantage in the region during what The World Bank refers to as "the most devastating, multi-pronged crisis in its modern history".
Our National Curriculum has not been updated since 1997, and children have below average literacy and numeracy rates in the Middle East. Students are suffering a blow to the learning they need to succeed each academic year, as well as excel in their future careers. And the divide in access is only getting wider.
While this situation feels hopeless to many, we believe it is our call to push for a new education system that mirrors the educational needs of our nation's youth. To do so, we have to work collectively, get creative, and aim high to devise solutions that will transform, rather than just fix, our crippled system. This can be done by tapping into underused (and underestimated) resources: educators and their supportive school communities, who have the highest stake and drive towards reform.
With this context in mind, in 2022, we joined a group of Lebanese citizens and together founded nafda to implement solutions to the systemic problems that have plagued Lebanon's education sector. 
nafda (n): Arabic word meaning spring cleaning, a movement towards regeneration, coined by the pioneering principals of the movement
At nafda, we staunchly believe that while children are being set back, we cannot afford to keep the schools in their current state. Institutions in Lebanon need regeneration at every level, from infrastructure, tools, and opportunities, to leadership, capacity, values, and mindset. They need innovative and scalable approaches that will allow students to advance as 21st century learners, effective citizens, and young professionals prepared for the future of work. 
We primarily focus on empowering schools to lead bottom-up transformations through the design, implementation, and scaling of grassroots solutions by restoring and leveraging the agency of school principals and engaging their school communities.
In 2022, 20 principals joined us and introduced education innovations into their institutions, aiming to scale their solutions to around 100 schools in 2023 and build other movement engagement activities. The principals of these pioneering schools adopted a Community Visioning Process developed by the Center for Universal Education at the Brookings Institution, to engage their communities in determining their most pertinent education priorities. After sharing these priorities with each other, the principals consolidated them into thematic areas.
Each thematic area laid the foundation for a nafda lab. Alongside peer schools in their respective lab, each team (consisting of principals, students, teachers, and parents) set a hyper-ambitious 100-day goal and found creative ways to achieve it. This is a framework pioneered by Reinstitute/ Rapid Results Institute, designed to inspire intense collaboration, rapid innovation, and disciplined execution. 
In the process, the school teams were matched with local actors who could provide expert knowledge and technical support on their individual project, all in a brief, yet impactful, amount of time.