Network Alumni Selected for 2019 Obama Foundation Fellowship
Image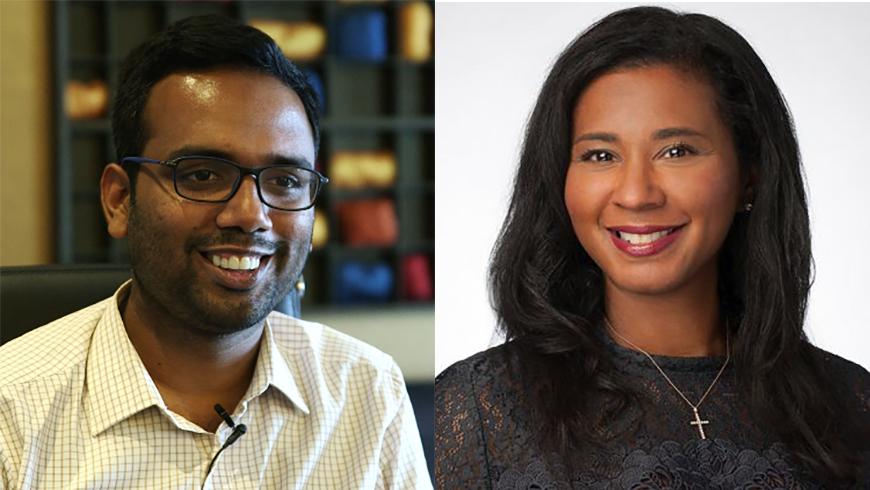 We're delighted that two Teach For All network alumni — Aimée Eubanks Davis (Teach For America) and Tarun Cherukuri (Teach For India) — are among the 20 2019 Obama Foundation Fellows.
Aimée was a Teach For America corps member in 1995 and later held several critical leadership roles at at the organization, including Chief People Officer and Executive Vice President of Public Affairs and Engagement. In 2015 she launched Braven, an initiative that supports low-income and first generation college students in the U.S. to get a strong start in their professional and post-graduate academic careers. Through its leadership development program and partnerships with universities and employers, Braven helps students develop the skills, experiences, and networks that lead to successful employment in their fields.
A 2009 Teach For India Fellow, Tarun went on to become the organization's Delhi City Director before co-founding Indus Action in 2015. Indus Action helps families in some of India's most marginalized communities attain seats in prestigious private schools through the country's Right to Education law. In the five years since its launch, Indus Action has helped enroll 90,000 children from under-resourced communities in private schools, and the initiative aims to enroll one million by 2020. Indus Action also supports the empowerment of local community leaders who drive enrollment campaigns in their neighborhoods. (Watch a video profile of Tarun here.)
According to the Obama Foundation, this second cohort of Fellows "represents a diverse set of leaders who all model a powerful truth: that each of us has a role to play in making our communities better"—a conviction that aligns with the Teach For All network's belief that real, sustainable change requires collective leadership rooted in the strengths of local communities and the perspectives of those who have experienced the inequities and injustices being addressed.
We look forward to learning from Tarun, Aimée, and their colleagues throughout their time in the Fellowship. Congratulations to all of the inspiring 2019 Obama Foundation Fellows!
Two Teach For All network CEOs and two Teach For America alumni were among last year's inaugural class of Obama Foundation Fellows. Read more about them here.