Network Radio Initiatives Launched During the Pandemic Evolve to Supplement Instruction and Reach Out of School Children
Image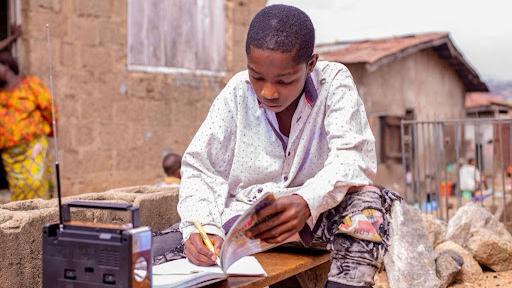 Early in the pandemic the Ogun State government recruited Teach For Nigeria fellows to teach both on the radio and live on TV while schools were closed, reaching a potential audience of millions of children. Teach For Nigeria fellows were specifically selected for these initiatives because of their training in 21st century teaching and leadership skills. The government plans to continue these programs (and Teach For Nigeria fellows will continue to lead the content and teaching) for the foreseeable future, with lessons designed both to supplement what students are taught in school when they've returned to the classroom, and to reach children who are out of school for any reason—families responsibilities, health, work, weather, etc.
In addition to the radio and TV initiatives led by the Ogun State government, in early 2021 Teach For Nigeria launched Teach For Nigeria Radio School, to complement traditional classroom teaching. The Radio School delivers educational content in core subject areas such as numeracy, literacy, STEM, and general knowledge for nursery and primary school pupils. The lessons are interactive and fun, and are designed to develop students' skills in critical thinking, problem-solving, communication, active listening, and focus. Since its launch in January 2021, the Radio School has produced and aired over 90 lessons which are broadcast via Ogun State Broadcasting Corporation FM and Sweet FM three times a week. 
Following Teach For Nigeria Radio School's launch, the program continued to evolve and expand. In the spring of 2021, selected fellows and alumni were trained to lead the production of its content, and a new segment designed specifically for parents and recorded in the Yoruba Language was created to provide families with effective techniques for supporting their children. To measure learning and knowledge retention, pop-quiz episodes were introduced, drawing on lessons from previous weeks. To support ongoing engagement with learners and their parents, a WhatsApp learning platform was also created for sharing and accessing digital worksheets and learning activities. 
Teach For Nigeria Radio School has so far reached over 50,000 listeners (according to the Ogun State Broadcasting Corporation), and its lessons are among the top five most-listened-to programs on Sweet FM. Through an on-going focus group of listeners in schools across five local government areas of Ogun State, the Radio School distributed worksheets to 1000 learners in 2021, and aims to extend its reach to more students in 2022. 
In the spring of 2020, inspired after hearing about Teach For Nigeria fellows who were teaching lessons on the radio, two Enseña Chile teachers recorded 30-minute radio lessons in five subjects, intentionally designing them to be dynamic and relevant to students. Enseña Chile's CEO Tomás Recart shared the lessons with the Chilean Radio Broadcasters Association, local government officials, and the media—all of whom quickly became advocates for the project, which officially launched as La Radio Enseña. Through the initiative, more than 50 Enseña Chile teachers and 10 staff members are working with community leaders to record lessons that are broadcast on the radio throughout the country. The lessons, which are targeted at 13- to 18-year-olds and focus on multiple subjects, aired daily from Monday to Friday and can also be accessed from Enseña Chile's website, Spotify, and Instagram.
In 2021, La Radio Enseña evolved into Canales Enseña (Teaching Channels) which launched last March as an open and free multimedia platform with hundreds of 30-minute podcasts and learning guides on different subjects including language, mathematics, science, history, art and culture as well as a WhatsApp tool called Aló Enseña to provide automated learning support for students. Aló Enseña was specifically developed to allow students to practice what they learn and receive immediate feedback. To do so, after listening to one of the 30-minute podcasts, they simply send a message to a provided phone number, which prompts a robot named Robi to ask questions about the lessons, share feedback, and encourage them to keep learning and practicing. In addition to these resources, the platform also includes the more than 140 radio capsules developed for La Radio Enseña in 2020. 
All Canales Enseña content and resources are aligned to Chile's national curriculum and learning goals, as well as Enseña Chile's approach to socioemotional skills development.  Their intended audience is students, teachers, and schools who can use the content either as part of their curriculum or to supplement. Current Enseña Chile participants can apply to be part of the team that develops and implements content for Canales Enseña during their two-year teaching commitment. 
Image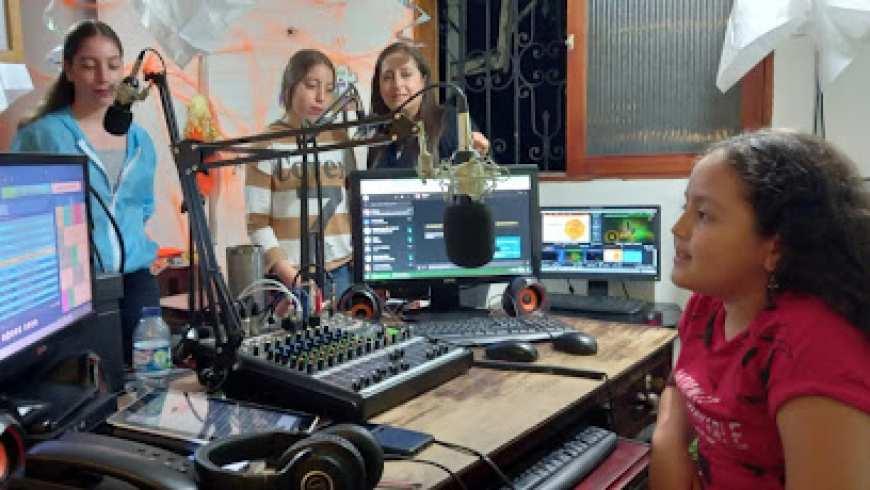 Members of the A prender la Onda student radio club "La Casa de las Palabras" record a radio program in Támesis, Colombia.
Launched by another network partner in Latin America, A prender la Onda (APLO) is an educational radio program led by a group of Enseña por Colombia participants, alumni, and other teachers that aims to awaken and enhance curiosity in learning. Developed with the aim of continuing to support students' learning during the pandemic, A prender la Onda was created organically by Enseña por Colombia members who recognized that, while many of their low-income, often rural, students lacked connection to the internet, they often did have access to community radio stations and WhatsApp. Enseña por Colombia teachers wrote their own audio lesson content, reached out to broadcasters  and were ultimately able to build an alliance with 20 radio stations to broadcast their lessons across the country—including to areas where Enseña por Colombia wasn't placing teachers—helping them reach far more students than they had previously imagined. 
Today, A prender la Onda has produced 250 episodes of audio lessons organized into 28 seasons, or themes, and continues to design, record, and distribute new content. Thirty radio stations, covering more than 40 municipalities in the country, have broadcast at least one season of APLO — and the team recently signed an agreement with the Colombian Ministry of Education to host A prender la Onda content on the ministry's learning platform. APLO was also recognized as an exemplar of education continuity by the OECD and was a finalist for the 2021 TPrize, powered by MIT and Solve Challenge. 
A prender la Onda's 15-minute episodes are designed and recorded by teachers for other teachers, students, and their families, and follow a basic structure: an introduction, the learning objective and core content, an activity that brings the learning objective to life, and a conclusion. Students can access the lessons in multiple ways, including local radio stations, WhatsApp (through their parents' or their own smartphones), community loudspeakers, and digital platforms.  
Although A prender la Onda was created in response to the pandemic, there are multiple reasons children in Columbia are unable to attend school temporarily or long-term, including emergencies related to climate and violence, and economic inequality. The team at A prender la Onda believes there is a need for alternative and community-led educational models outside the classroom, and have partnered with community leaders to determine how best to use APLO's content to create educational experiences for their communities. A prender la Onda also works with teachers and students groups to build capacity for creating audio lessons and supports them to teach, inspire, and share their stories through radio and WhatsApp. In 2021, APLO worked with 11 student radio clubs throughout the country to co-create 37 episodes with tailored content and lessons based on what was happening in the students' communities.
"A prender la Onda has changed the whole structure and process of teaching," says Tiany Gamarra Castillo, an Enseña por Colombia alumna and A prender la Onda Training Coordinator. "Students get to hear their own voices, telling their own stories and not being passive with regard to their own learning. They are the voices of the program."