Inspiration and affirmation: The power of a cross-cultural school visit
Image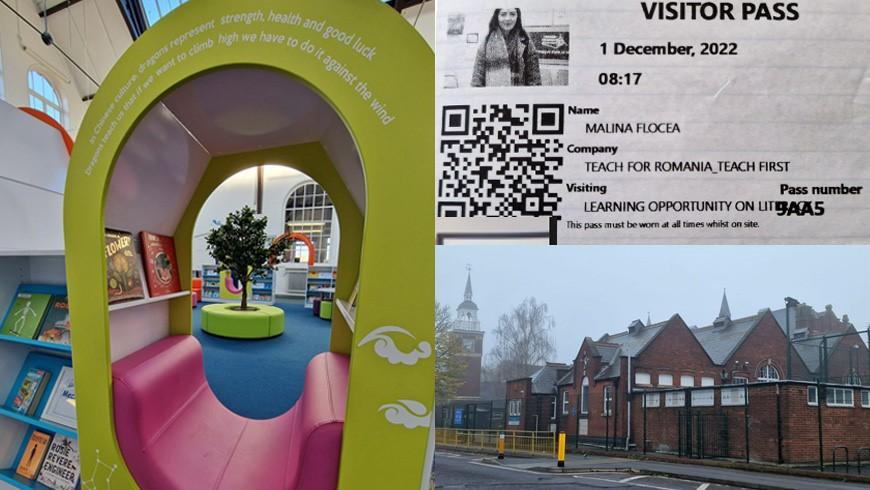 At 6 a.m. on December 1, 2022, on Romania's National Day, I was on my way to Southampton, UK, my student city, home to my beloved University of Southampton, my childhood best friend who moved to England almost 10 years ago, and a good chunk of my growth as an adult. 
This time it wasn't just a visit to reminisce about my student life, but an excellent opportunity to connect a big part of my life, Teach For Romania, to its English sister, Teach First, and to further our joint mission of offering all children access to quality education. 
I really wanted the chance to visit a Teach First partner school, to observe their way of supporting their teachers and students, to learn and to take back ideas about how Teach For Romania can better lead our literacy program. Colleagues at Teach First kindly connected me to Mount Pleasant Junior School, and on a cold Thursday morning I was nervously buzzing my way in.
The school is in one of Southampton's multicultural neighbourhoods, where, coincidently, I had also lived before moving back to Romania. I was warmly welcomed by the reception staff who asked me to register on a self-check pad and who offered something to drink and a child safeguarding brochure, all while children were slowly starting a new day of learning. It was a beautiful 127-year-old school with a historic clock tower, spacious, inviting classrooms and a beautiful library - I was excited, eager to learn, and in awe from the moment I arrived.
After an introductory chat with the school's head of pedagogy, Gemma, who took time to understand my visit objectives and to answer all of my questions, I was given a short school tour by Mohammed, a bright, well-spoken 7-year-old oracy ambassador who had the important mission to tell me all about the impressive achievements and learning visuals around the school in under 15 minutes. I was met by many hellos and smiles, both from students and school staff, and everywhere I looked there was clear proof that this was a school where the main objectives are to empower its students to take part in their own learning journeys, to keep them safe, and to celebrate their identities, their cultures, and their uniqueness.
Each classroom was named after an inspirational world figure who also represented the school's core values as a community, values that were deeply ingrained in the atmosphere around the school, from curiosity, adventure, and peace to innovation, activism, and kindness.
As I was listening to Mohammed passionately talk about music practice and sports, student roles around the school, the many important badges on his uniform, visits to art galleries, and parent assemblies, I couldn't help but think about some of the schools I work with back home in Romania. The kids are just as bright and our teachers are motivated and talented, and I was excited to discuss with my colleagues what more we could do that would  enable us to offer kids a wider range of learning opportunities and to make these safe learning communities become the norm? As we were approaching the end of our morning tour, a pair of big brown eyes joined us and a warm voice quickly let out an "I'm also Romanian, Miss." Her name was Ana and, for some reason, her presence made me emotional and even more excited to return home and tell everyone about my experience.
We continued the day by sitting in on three classes led by  teachers with different levels of experience, observing their oracy program put into practice. An impressive strategy for developing confidence and empathy in interactions, as well as the ability to ask the right questions and to express ideas eloquently, oracy not only builds speaking and listening skills, but also helps students improve their vocabulary and writing stamina, and their ability to use reasoning and evidence.
The need for an oracy focus came from noticing that the girls in Mount Pleasant were not very confident in expressing themselves, which again demonstrated how inclusive and caring this school was. I noted a few oracy techniques such as tables/groups of four, gestures used in interaction (thumbs up=I agree, thumbs down=I disagree, fists rubbed together=wanting to add on), the teacher as a learning facilitator asking the right questions, and many opportunities to discuss, build on each other's ideas, and contribute. There were also "talk tokens" (to encourage shy students to take their turns and more talkative students to hold space for the rest), recess discussions initiated by oracy ambassadors, and interviews for different school roles held by students.
Together with the headteacher of another local school who was also interested in the program, I was offered a short debrief on oracy strategies led by Gemma and Charmaine, the school's professional mentor and Teach First alumna. I was then invited to a reading comprehension class where I observed the importance of a learning structure, clear visuals, the role of the teacher as a learning facilitator, and meaningful feedback. I took away tons of ideas that I cannot wait to share: theme boards, reading challenges and journals, ways of communicating objectives and monitoring students' learning, countless examples of constructive feedback and critical thinking cue questions, ways of organising books and resources, and efficient classroom layouts.  
Before I left Mount Pleasant Junior I asked for some time to wander around the site. I decided to spend a few minutes in my favourite part of the building—the newly refurbished library. The heart of the school, the library is a wonderful oasis of books and stories, colour and comfort—a project that was designed by and for the students. 
I thought of the immense value found in authentic collaborations between people with a shared mission and how we could foster this in our own local context, and about the importance of a beautiful, inviting, safe space for learning, exploring, and discovering who you are as you are facing the ever-changing world around you. I also thought of the teachers we work with at Teach For Romania—passionate, driven people who want to offer everything to their students and the communities where they teach—our accomplishments and the steps forward that are not little, but that sometimes may still feel far from what we want to achieve. And yet, being in this place reassured me that we are not alone, that we are brought together by this important mission of learning how to better show up for the children in our world and how to help build healthy communities around them, how to lead educational change with kindness and grit.
I left Mount Pleasant Junior School filled with hope and inspiration, already thinking of a second visit. I feel honoured and very lucky to have had this experience and I encourage not only my colleagues at Teach For Romania, but everyone in the Teach For All network to have at least one such experience