Leading with Optimism, Energy, and Love
As another week begins, I want to share some of the things that are making me hopeful amidst this anxiety. 
With more than 85% of the world's students out of school, we face a huge collective challenge to keep those in the most marginalized communities safe and learning. I'm inspired by the teachers and educators who are going the extra mile to reach their students in creative ways, and by those who are reaching far beyond their own classrooms.
In important ways, this crisis is bringing network partners even closer to their communities. Teach For Pakistan fellows engaged in a four-day virtual training to create a comprehensive plan for working with their students for the next two months, at least. CEO Khadija Bhaktiar shared that already, fellows have learned so much more about their students' circumstances and immeasurably deepened relationships with their parents in ways that will be defining for this cohort once they are beyond the pandemic.
It's also inspiring to see how teachers, alumni, and network partners, rooted in the needs they're seeing among students and families, are exerting leadership and innovating to support students and families on a broader scale. Teach For Uganda fellows and alumni worked to educate their school communities about how to safeguard against COVID-19, running trainings for community leaders, starting health clubs for students, setting up school washing stations, and sharing information with the broader community via local radio stations. After schools closed on March 20, some have remained working with their communities and broadcasting education programs on the radio. 
Image

Teach For Uganda fellows created posters with their learners to inform them, their families and their communities about how to safeguard themselves from the spread of COVID-19. Students of Isenda Primary School in Uganda marched around their communities to drum up awareness to protect against the coronavirus. 
It's exciting to see the ways network partners all across Latin America are also finding ways to work beyond usual boundaries. For example, Enseña Ecuador is collaborating with the Ministry of Education and other stakeholders to create a so-called Digital School. Its teachers are contributing innovative and motivational content through digital, radio, and television media. This is the first time that the Ministry has collaborated with local organizations to develop content for teachers and students outside the traditional curriculum and materials, and could break ground for reinventing education not only for today but for the future.   
Enseña por Panamá hosted a two-hour online workshop on Zoom, instructing teachers how to create distance learning toolkits and promote equal access to learning resources for students without internet access. They've worked with over 400 public school teachers from every province—including three of the most at-risk indigenous groups in Panama. The feedback was so positive that they created 40+ hours of content, offered it to the Ministry of Education, and became the Ministry's official online teacher training partner so that the workshops will be available to all teachers throughout Panama.
Enseña por México participants are offering virtual classes for their own students, and they are also publishing them on their website Yo Aprendo En Casa (I Learn At Home) for the benefit of all parents, teachers, and students. In a collaboration with state Ministries of Education, their participants are also serving as facilitators and coaches to train other teachers to teach virtually.  
We're seeing similarly systemic responses in many countries. Teachers of Renkuosi Mokyti! in Lithuania are working with national Lithuanian television LRT and well-known Lithuanians to teach all children across the country, involving them in experiments and activities. LRT is free public television, so almost all children have the opportunity to engage in various lessons from their homes. Students can also connect to the classes through the LRT app. 
Image
Renkuosi Mokyti! alumna Emilija Zakaitė has done real magic during a live chemistry lesson.
For many students across our network, the primary challenge is gaining access to clean water, food, and medical supplies during this crisis. Teach For India alumni are exerting leadership across the country in an effort to be responsive to the magnitude of the challenge. Mantra4Change, founded by alumnus Santosh More, works to improve the public education system in India. Many of the children in the communities in which Mantra4Change works are from families of migrant laborers who have no way to survive without their daily work. Mantra4Change is coordinating a mass response, collaborating with their Health Ministry's COVID-19 response team to provide rations to families in need and masks, thermometers, sanitizers, and gloves to healthcare workers.
Indus Action, founded by Teach For India alumnus Tarun Cherukuri, is working to make more than half a million vulnerable people aware of the aid announced by India's Prime Minister. They have access to such a large database because of their ongoing work connecting people with government resources.  
Haqdarshak, founded by another Teach For India alumnus, Aniket Doegar, is building awareness across 20+ states of the Prime Minister's plans, creating informational posters and videos to help citizens access the COVID-19 relief packages announced by the government.
I feel so grateful to be part of a community of people who are leaning into this moment with so much love and passion, so much stamina and perseverance. What's keeping so many in our network going are the relationships they've built with their students, and so it's fitting to close with a small window into the minds and lives of students across our network. Our new #StayingHome Instagram series features students from around the network sharing how they're spending their time.    
Image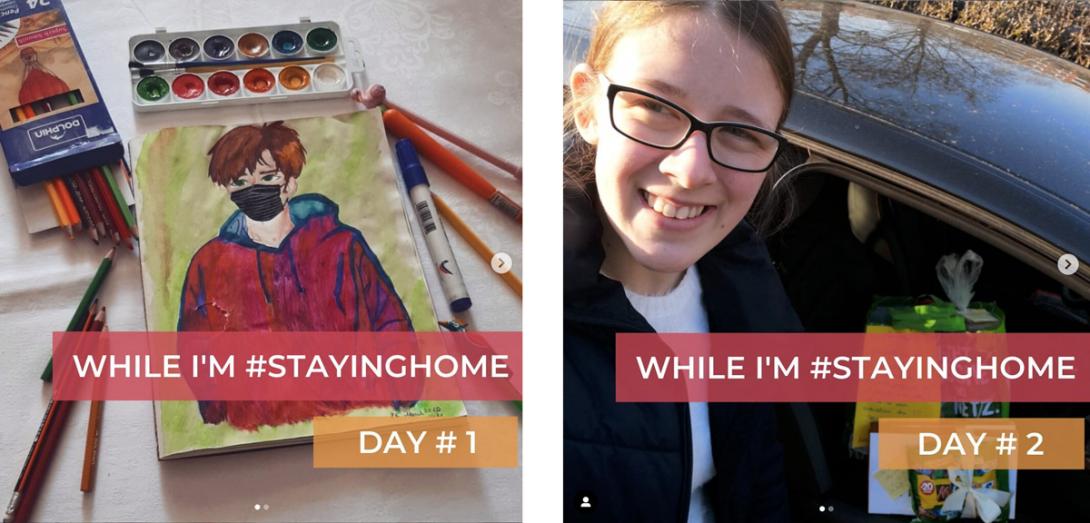 DAY #1 "The world is suffering and struggling, but I truly believe that we, together, will be able to fight and win the virus, no matter what the challenges are."
— Anahit Arzumanian, age 16, Armenia
DAY #2 "During the coronavirus outbreak it's a great risk for old people to leave home. I'm facing a risk too, but not that much though. So my boyfriend and I do the shopping for our grandparents and neighbours who don't feel safe going out. In this time it's more than ever important to stay together and help each other in every way we can! Social distancing is just supposed to happen in a physical way! Our hearts have to grow together in times like that. And together we'll overcome this and get back to a new beauty that hopefully will keep our hearts together ❤️"  
— Dewina Leuschner, age 19, Germany
Let us all lead with such optimism and love.